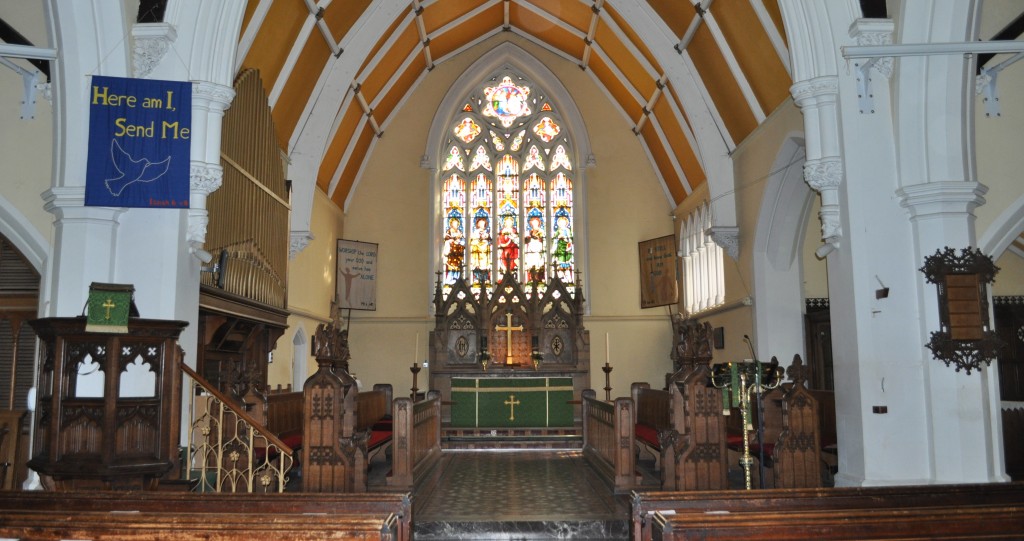 The building of the church began in 1855 in response to a rapid increase in Peterborough's population following the arrival of the railway. The architect was Edward Ellis of whom we know very little other than the fact he also designed a church at Upper Edmonton. The builder was John Thompson, a local man whose activities extended nationwide (his firm rebuilt the central tower of Peterborough Cathedral when it was threatened with collapse in 1883). John Thompson was one of the first churchwardens of St. Mark's and later Mayor of Peterborough. The east window was his gift to the church and the clergy stalls were given in his memory.
The west window, containing the arms of the dioceses of England, was given by G. H. Whalley, M.P. for the city. Other windows in the south wall are associated with the Willoughby family and the Westgate House School (1866-95) with which the church had close connections.
In common with other churches built at this period, the design was strongly influenced by the Gothic Revival movement and the architect is inspired by that of the early decorated period (14th Century). The tower and spire are unconventionally positioned at the east end in order to dominate the skyline from three directions.
The church was consecrated on 26th September 1856, and is not just an historic building and city landmark, but the home of a worshipping community. Within its walls countless people have come to know Jesus Christ as their Lord and Saviour. As a church we remain committed to proclaiming the good news of Jesus Christ, and go forward in faith and confidence under God's guidance to face whatever the future may hold.